Project Highlights 
EMU secured the right to earn an 80% interest in 3 EPM's (Exploration Permits for Minerals – being Georgetown, Perpendicular Peak & Fiery Creek) under a farm-in and joint venture agreement with Rugby Resources Ltd (Rugby, TSXV:RUG). These EPMs cover 850 square kilometres in the Georgetown mining district, North Queensland, Australia.(Fig 1)  Georgetown is a richly endowed but under-explored area of Far North Queensland with a history of significant mining activity and mineral discoveries.
There are multiple occurrences of rare earth elements, precious metals, battery metals, numerous base and strategic minerals in the Georgetown mining district. The district has not been subject to any systematic modern exploration. Gold has been the main mineral mined in the district including from the prolific Kidston Mine, one of Australia's largest ever gold mines. The Georgetown tenement package provides significant scale and adds dimension to EMU's highly prospective WA project portfolio.  It presents a remarkable opportunity for the discovery of critical minerals, gold and other minerals  demand ed for  electric vehicles and the global energy/carbon balance transition.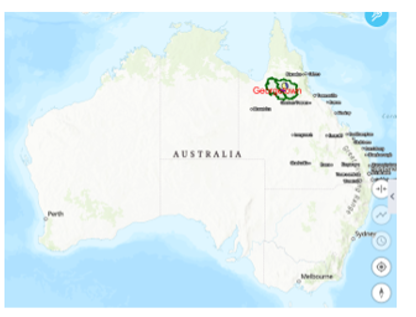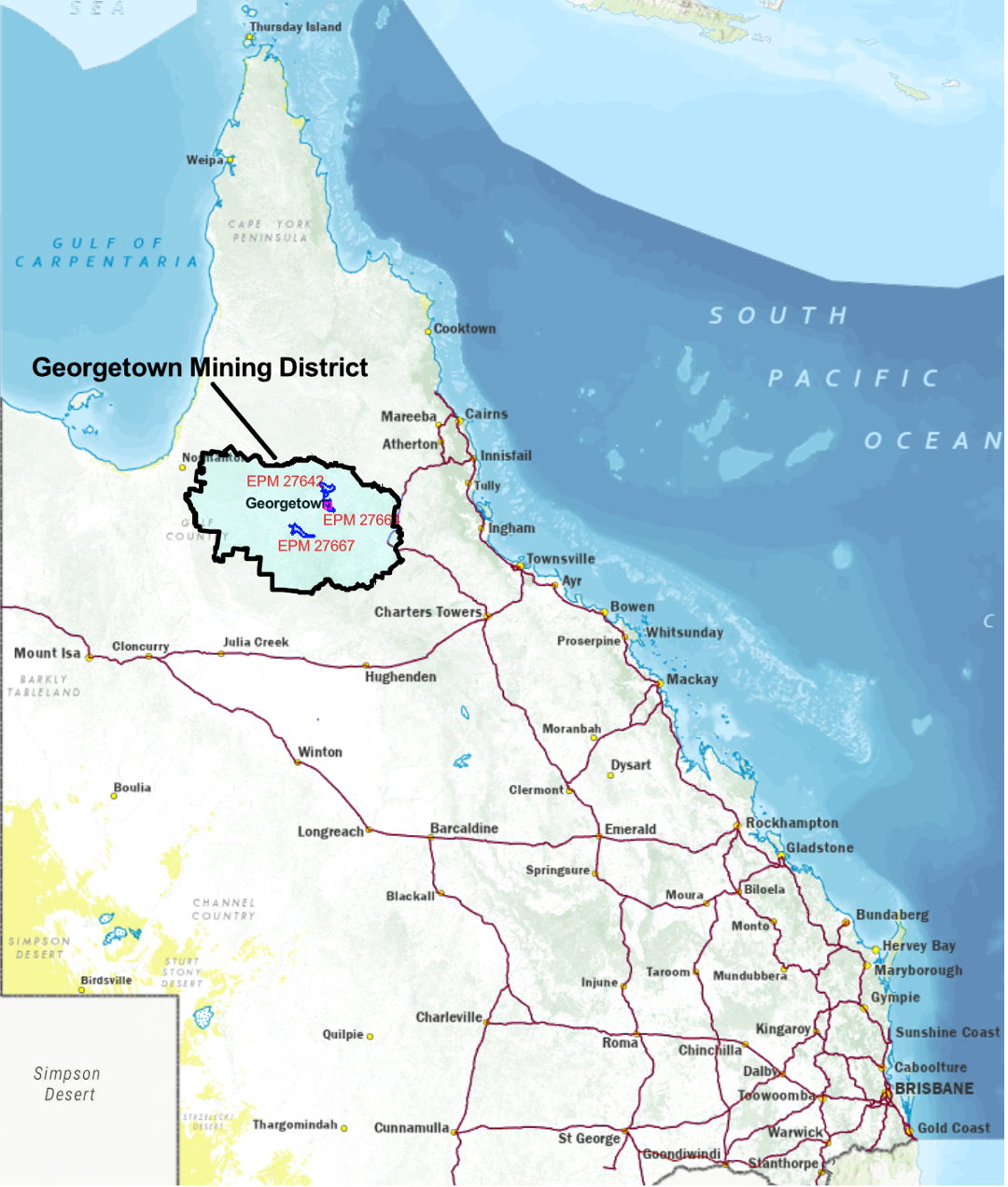 (Fig 1) Location of the Etheridge and Croydon Local Government Areas, North Queensland, Australia which define the Georgetown mining district boundaries
The Georgetown mining district, within the 39,000 square kilometre local government area of Etheridge and the adjoining 29,500 square kilometre local government area of Croydon, has a long mining history. The district includes the settlements of Georgetown, Einasleigh, Gilbert River, Mount Surprise and Croydon.  More than 1,000 mines, prospects and mineral occurrences have been identified within the district including the Kidston mine, one of Australia's largest ever gold producing mines.  Discovered in 1907, the Kidston mine recorded production of 5.1moz (145 tonnes) of gold in the 16 years between 1985 to 2001 alone.
It has been estimated that the district produced more than 650,000 oz of gold in the period between the late 1800's and early 1900's.[1] Pre Kidston, the most significant historic production came from the Cumberland mine which produced over 65,000 oz gold between 1872 and 1897.  That mine is located just 20kms west of Georgetown.
[1] "Readings in North Queensland Mining History Vol 1", Ed KH Kennedy, History Department, James Cook University of North Queensland, Townsville, 1980
(Fig 2.) Location of EMU's farm in tennaments relative to Kidston mine. The Georgetown mining district lies within the Proterozoic Etheridge Province of the North Australia Craton which includes the Georgetown inlier.  Intrusion related and epithermal styles of mineralisation have been identified throughout the Georgetown mining district.

(Table 1.) EMU's Georgetown Tennaments

Geoscience Australia, in a 2022 study which interrogated its extensive Australian database[1] to seek "forgotten discoveries", identified critical mineral occurrences along with gold, copper, iron and silver-lead-zinc in the Georgetown mining district.
The report notes that the Georgetown inlier (defined as being the area bound by Croydon to the west, Chillagoe to the east and Hughenden to the south) is "exceedingly rich in gold, copper, lead silver and zinc mineralisation".  The Georgetown inlier is a geologically significant structural feature of the region formed during the Proterozoic period.
The authors further noted they expect there to be a massive increase in demand for base metals as they are required for electric vehicle batteries and other electrification infrastructure. Geoscience Australia suggests that growing demand will change the economic cut off grades for many minerals.
The Queensland Department of Natural Resources and Mines (DNRM)[2], reports the Georgetown mining district as having untested potential for significant lithium resources. The most abundant lithium bearing mineral, lepidolite, the focus of recent exploration in the Georgetown mining district, has been found in significant quantities around Buchanan's Creek and Grants Gully to the south of Georgetown itself.  In the same report, the DNRM delineates anomalous tantalum and niobium in pegmatites in Buchanan's Creek and Grants Gully (both located approximately 30 kms southwest of Georgetown) as well as in the Georgetown and Forsythe township areas. It noted tantalum has been reported from some gold mines in the Georgetown township area and at the historic Cumberland Mine.
Several explorers in the Georgetown mining district are focussed on the potential lithium endowment including ActivEx Limited (ASX:AIV), which has commenced exploring for LCT (Lithium, Caesium, Tantalum) in its leases near Georgetown.[3] Private company, Strategic Metals Australia (SMA), announced it made a significant lithium discovery at Buchanan's Creek near Georgetown at the "AusIMM Lithium and Battery Metals Conference" in Perth 3-4 July 2019.  Since the announcement that company has focussed on Lithium-caesium-rubidium extraction from alkali metal enriched mica from the area.[4] SMA notes this style of mineralisation is similar to the large tonnage medium grade San Jose Lithium-Tin Deposit in Spain.
Georgetown Tenement (EPM 7664)
The Georgetown EPM covers numerous historic gold mines which operated through the period 1877 to 1915.  Significant gold production was recorded from 18 mines located along the Delany Fault.
Immediate EMU exploration targets include the follow up of the of the historical gold mines and an alteration zone identified from Landsat Imagery by Rugby in the northwest area of the tenement (see Fig 2.)
[1]  "Mineral Occurrences: Forgotten discoveries providing new leads for mineral supply" C. Kucka, A Senior, A. Britt, Geoscience Australia 2022. Exploring for the Future.
[2] "Emerging strategic minerals in Queensland", July 2017, Queensland Department of Natural Resources and Mines.
[3] ActivEx Limited, ASX Announcement "Georgetown Lithium Potential to be Assessed" 15 November 2021
[4] Strategic Metals Australia website www.strategicmetalsautralia.com.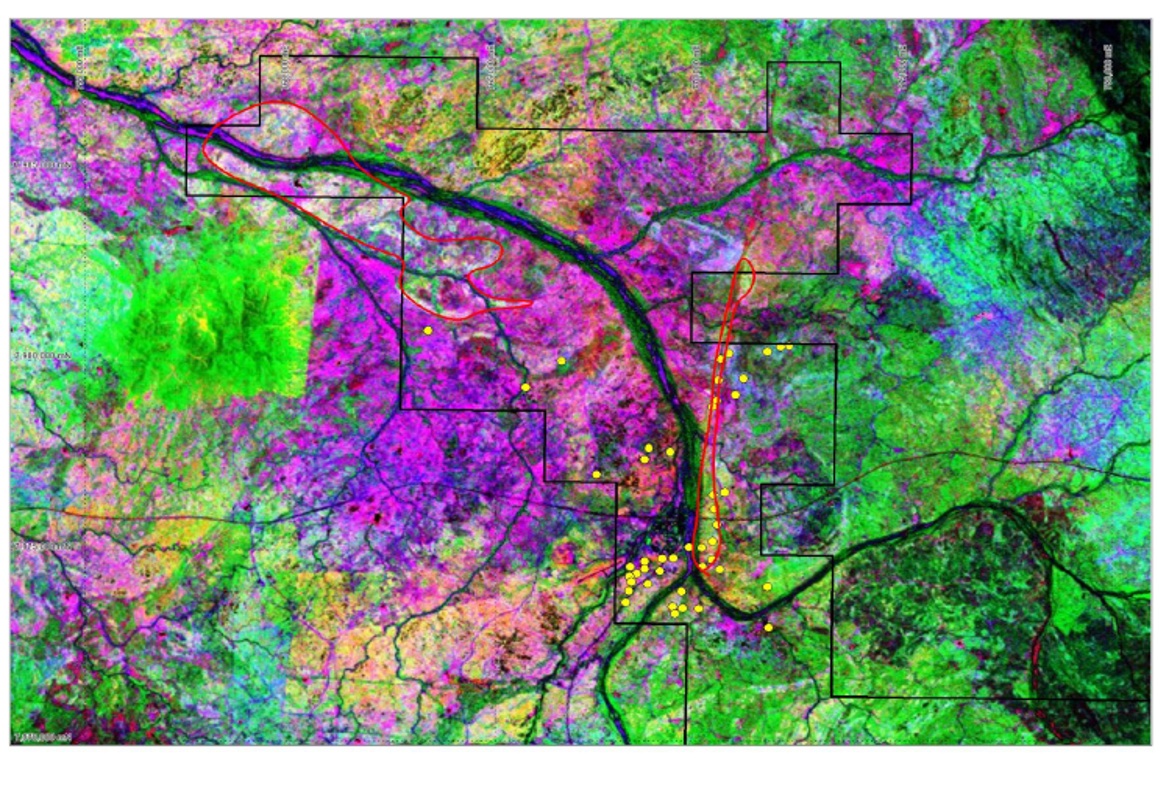 (Fig 3.)  Processed Landsat imagery showing anomalies (red outlines) and gold occurrences (yellow dots) Georgetown (EPM 27664)
The Fiery Creek EPM is located approximately 30 kms north of the Georgetown permit and covers an area of 325 square kilometres.  It hosts several known gold and copper occurrences with the most significant being the Yatanga copper prospect.  This substantial intrusive complex is apparent from a large circular aeromagnetic anomaly and associated surficial copper occurrences. Potential alteration zones have been identified by Rugby on the margins of the Yataga intrusive from Landsat imagery.
The Fiery Creek permit hosts epithermal style gold mineralisation and intrusive hosted copper – molybdenum targets. 
Moreover, the permit area provides potential uranium exploration opportunities with the Maureen uranium deposit adjoining Fiery Creek's western boundary.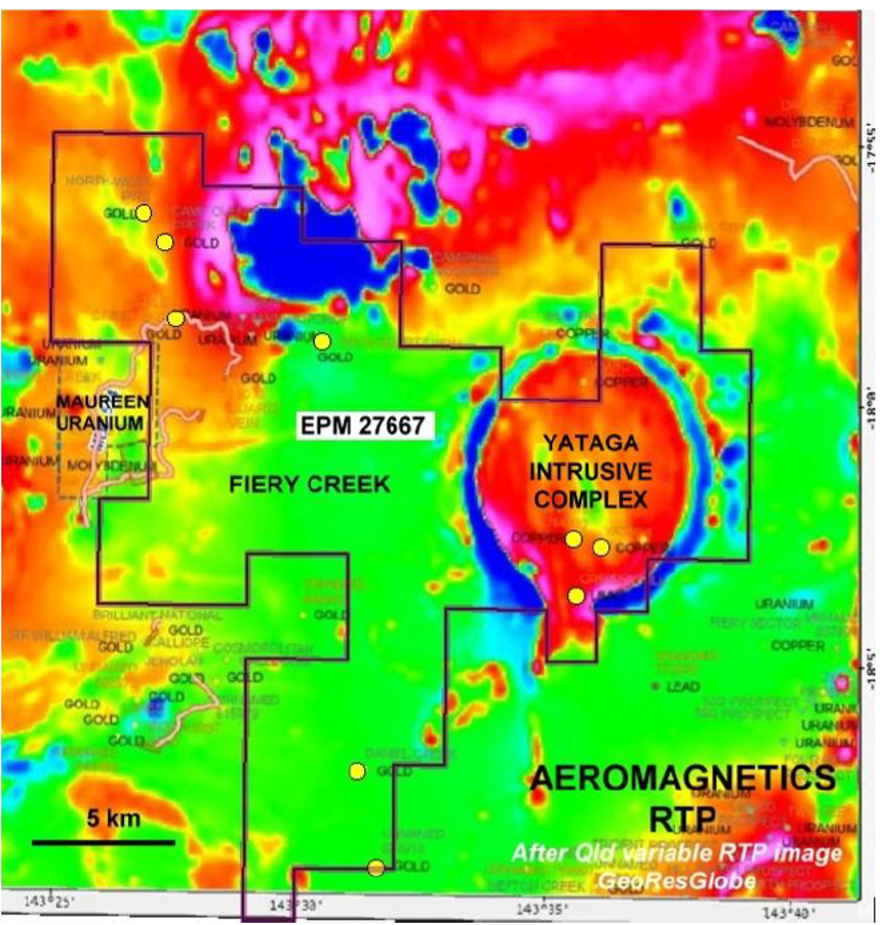 Perpendicular Creek (EPM 27642)
The Perpendicular Creek permit covers the Snake Creek silver-lead prospect and the Munitions Creek gold prospect. 
The area has been exposed to very little recent exploration activity with the most recent work having been conducted by the following companies.
Pickands Mather and Co International 1971
Seltrust Mining Corp 1985
CRA Limited 1986 – 1988
Battle Mountain Gold Company 1987-1988
Mount Isa Mines Limited 1991-1995
Diatreme Resources Limited 2006
EMU will commence exploration activities on ground during 2023 following an extensive review of databases and historic reports aimed at targeting exploration zones for field work.
Market updates right to your inbox!