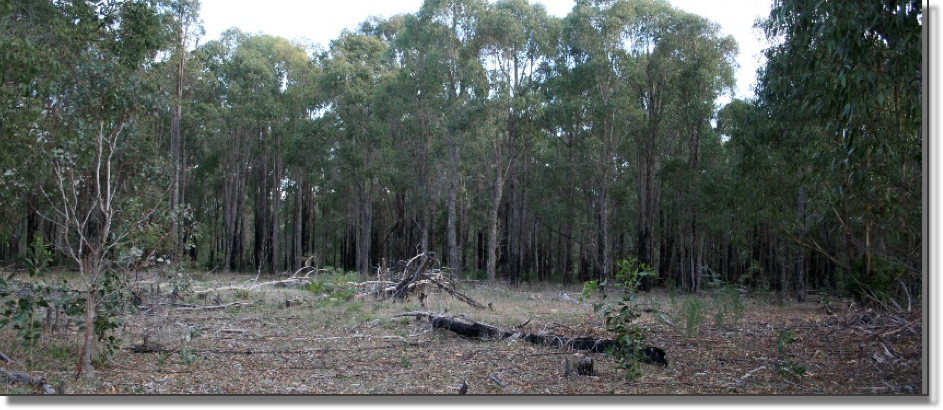 Project Highlights 
The 31.3km2 Sunfire Ni-Cu Project comprises a single EL application located midway between Bridgetown and Manjimup and to the south of the world-class Greenbushes lithium-tantalum mine. The Project also immediately adjoins Venture Minerals Limited's (ASX:VMS) South West Project in which Chalice Gold Mines Limited has recently committed to spend up to $3.7M to earn a 70% interest in a "Julimar lookalike" target.[1] 
The Project covers gneiss and amphibolite sequences of the Archean Balingup Complex derived from mafic and felsic volcanic units, banded iron formations, and mafic-ultramafic intrusive rocks of the South West Terrane of the Yilgarn Craton. Interpretation of the available geophysical (aeromagnetics + airborne EM) and geochemistry data indicates the presence of 3 north-easterly trends (Yornup, Seaton-Ross and Mersea trends) hosting mafic-ultramafic rocks with over 10km of prospective strike contained within the Project area. Previous exploration work since the 1970s covered only 2km within these trends and identified 4 key targets (Yornup Mill, Gommes, Aerial and Half Moon, Figure 2).
Limited historical drilling at Yornup Mill by Planet Mining (1970 – 1975) returned significant intercepts of 19m at 1.07% Ni and 0.06% Co from 6m (including 8m at 1.82% Ni and 0.06% Co from 16m) in hole DDH Y12A and 17m at 0.32% Ni from 1.5m in hole DDH Y011 (Figure 3)[2]. Planet Mining's work also confirmed the presence of several layered mafic-ultramafic intrusions within the Project area.
Subsequent exploration work by Western Mining Corporation (1978 – 1981) and Shell Minerals (1981) focussed on the chromite potential at Yornup Mill and extended the soil geochemistry coverage over Aerial. The Creasy Group (1998 – 2000) undertook a regional program exploring for both lateritic and sulphide nickel mineralisation in the greater regional area including the Sunfire tenement. Laterite sampling at Yornup Mill returned values of up to 940ppm Ni with follow-up shallow aircore drilling returning significant intersections of 22m at 0.31% Ni from 22m in hole MAC02 and 21m at 0.34% Ni in hole MAC03[3].
[1] Refer to Chalice Gold Mines ASX announcement of 21 July 2020: Chalice expands position in new West Yilgarn Ni-Cu-PGE Province with earn-in agreement on 'Julimar lookalike' target.
[2] Cautionary Statement: The drilling undertaken by Planet Mining is considered material to the Project, however the exploration results do not currently comply with JORC Code (2012) reporting standards.
[3] Cautionary Statement: The drilling undertaken by The Creasy Group is considered material to the Project, however the exploration results do not currently comply with JORC Code (2012) reporting standards.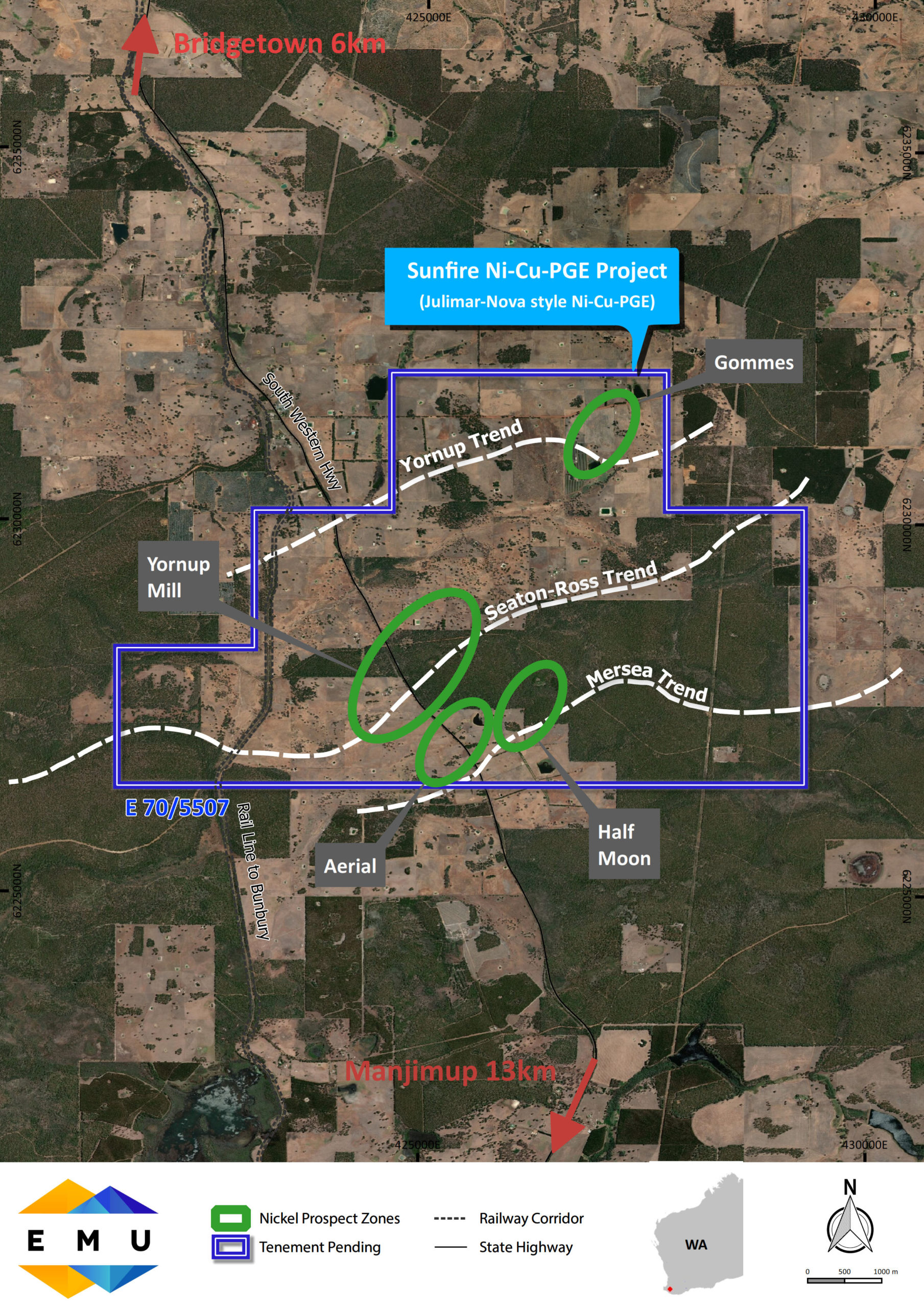 Previous RC and DD drilling highlights at Sunfire included the following:
MAC002: 22m @ 0.31% Ni from 2m
MAC003:        21m @ 0.34% Ni from 2m
MAC006:        14m @ 0.16% Ni from 0m
MAC007:        15m @ 0.48% Ni from 2m
MAC008:        10m @ 0.17% Ni from 6m
Y011:              17m @ 0.32% Ni from 1.5m
Y012A:           19m @ 1.70% Ni from 6m incl. 8m @ 1.8% Ni from 16m
MAC051:        16m @ 0.40% Ni from 6m
MAC052:        20m @ 0.39% Ni from 6m
Further details of significant intervals in the Planet Mining and Creasy Group drilling is provided in Annexure A (significant Ni intercepts). Supporting information is also provided in JORC Table 1, Sections 1 & 2 within Annexure B.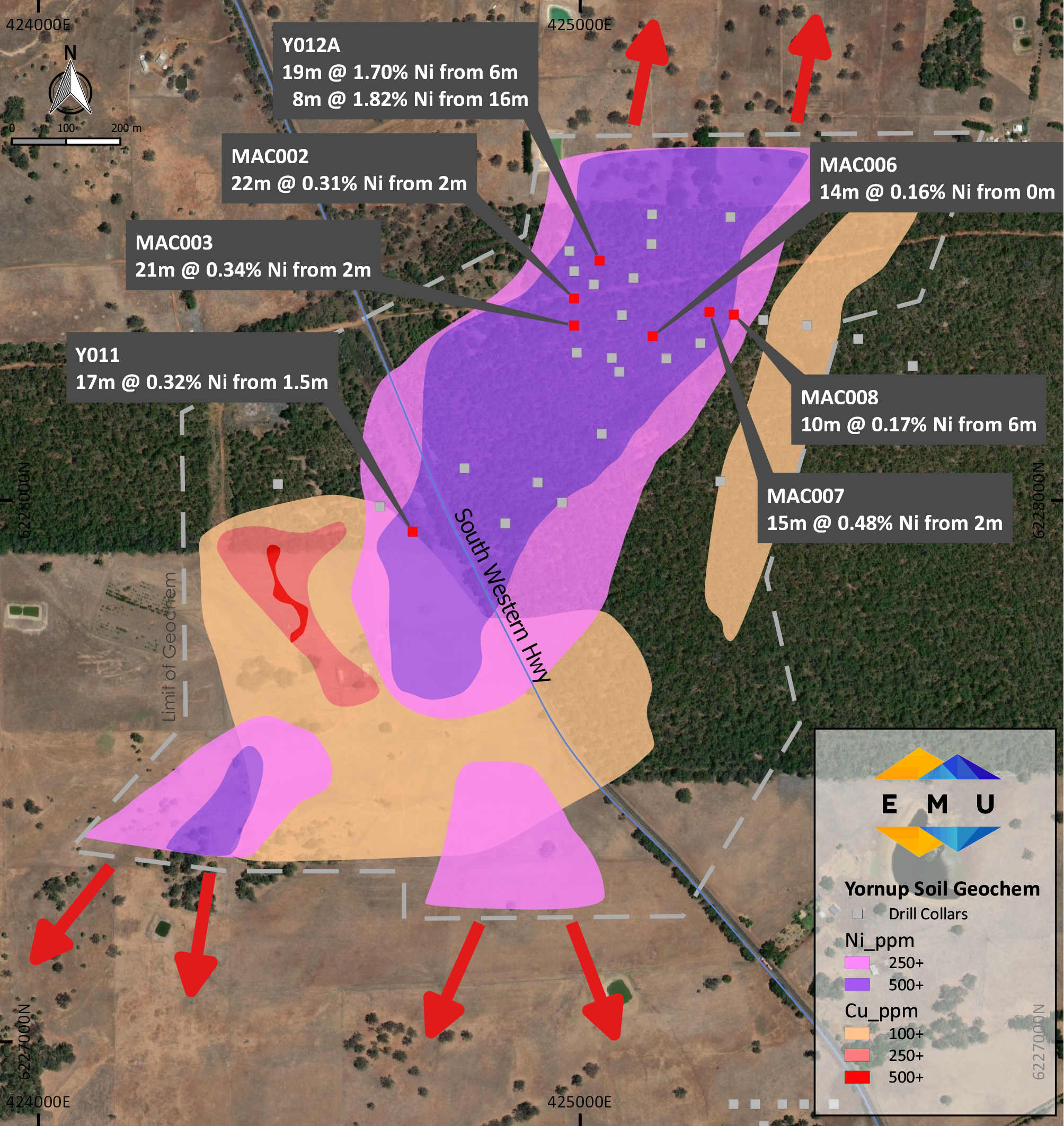 EMU believes there is significant scope for the discovery of primary Ni-Cu sulphide mineralisation within the Project, which is favourably located to existing road, rail and power infrastructure. Previous geochemical sampling at Sunfire was mostly limited to State Forest lands (Yornup Mill) with minimal additional sampling completed on private land. In particular, a strong, northeast-trending soil geochemical anomaly with a Ni-core and Cu-fringe containing maximum values of 0.2 – 0.5% Cu has been delineated within the Seaton-Ross Trend at Yornup Mill and requires follow-up along its strike extensions into private lands (Figure 3). Similarly, there is evidence of further coincident Ni-Cu geochemical signatures in the Mersea trend at Half Moon and Aerial in the southeast of the Project area.
The recent discovery of massive sulphide mineralisation at the nearby Thor prospect by Venture Minerals Limited (ASX:VMS) also highlights the potential for volcanogenic massive sulphide (VMS) mineralisation within the Sunfire Project.[1]
Emu's initial exploration program will extend the geochemistry coverage along the established regional trends (Yornup, Seaton-Ross and Mersea) with follow-up EM and IP geophysical surveys and drilling to be conducted over the priority targets.
[1] Refer to Venture Minerals ASX announcement of 21 February 2019: Drilling intersects further massive sulphides with Copper & Zinc mineralisation at the Thor VMS Prospect, Western Australia
Market updates right to your inbox!