Project Highlights
The Graceland Project is located 40km southeast of Hyden and 43km northeast of Lake Grace over a flat-lying area showing no outcrop expression. The area has been previously mapped as deformed Archean granites and granodiorites.
 The Project covers a discrete 5km-long magnetic feature and coincident gravity high interpreted as a mafic-ultramafic intrusion. This interpretation is supported by Golden Mile Resources Limited's (ASX:G88) Quicksilver Ni-laterite discovery overlying ultramafic rocks located 7km to the west of Graceland.[1] EMU's Graceland Project is conspicuously absent of any laterite development.
Previous modelling of detailed ground magnetics geophysical data from within the Graceland Project has interpreted 10 high-value magnetic plates at depths of 70 – 120m. Significantly, these targets have a stronger magnetic signature than the nearby Quicksilver Ni-laterite discovery. EMU has re interpreted the magnetics to better define drilling targets. (Fig 1)
[1]Refer to Golden Mile Resources ASX announcement of 19 November 2018: Quicksilver Nickel-Cobalt Project: Significant Maiden Resource, With Upside.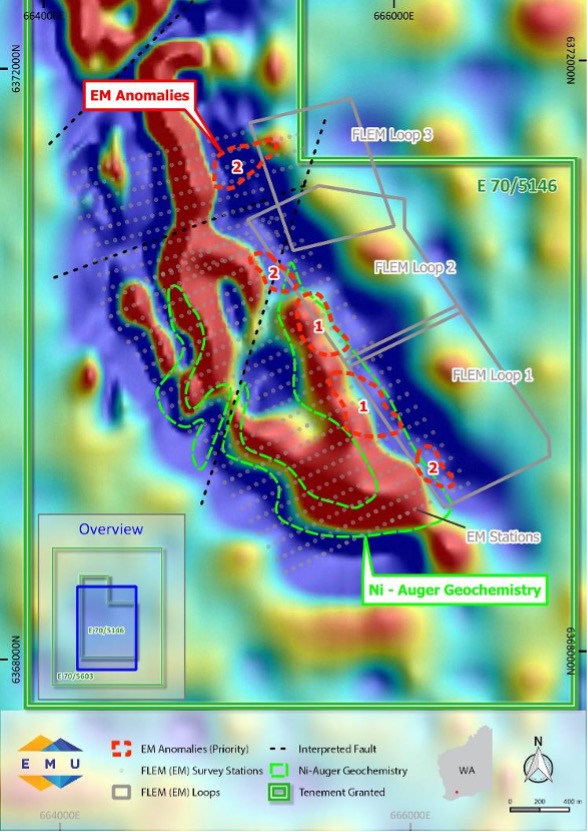 (Fig 1.) Reinterpreted airborne aeromagnetics and Fixed Loop Electromagnetic conductor locations gave EMU greater definition to complete its maiden RC Drilling programme in January 2023
The northern portion of the Project was  tested historically by a single line of 7 shallow aircore holes to a maximum depth of 11m. Bottom of hole geochemistry returned a peak value of 90 ppm Ni.
Initial work planned by EMU focused on the Ni-Cu-PGE potential of the magnetic anomaly commissioning geochemistry auger drilling. A follow-up program of Fixed-loop EM (MLEM) geophysics survey over the main geochemical anomalies identified potential conductors.  Graceland is characterised with gravity, magnetic, geochemistry and geophysics anomalies.  EMU has distilled these anomalies leading to a maiden RC drill programme in January  2023.
Market updates right to your inbox!