Project Highlights
The 14.4km2 Graceland Project comprises a single granted EL located 40km southeast of Hyden and 43km northeast of Lake Grace over a flat-lying area showing no outcrop expression. The area has been previously mapped as deformed Archean granites and granodiorites. EMU has recently applied for an additional 43.8 km2 EL surrounding the Project. 
The Project covers a discrete 5km-long magnetic feature and coincident gravity high interpreted as a mafic-ultramafic intrusion (Figure 4). This interpretation is supported by Golden Mile Resources Limited's (ASX:G88) Quicksilver Ni-laterite discovery overlying ultramafic rocks located 7km to the west of Graceland.[1] EMU's Graceland Project is conspicuously absent of any laterite development. 
Previous modelling of detailed ground magnetics geophysical data from within the Graceland Project by Southern Geoscience Consultants Pty Ltd has interpreted 12 high-value magnetic plates at depths of 70 – 120m. Significantly, these targets have a stronger magnetic signature than the nearby Quicksilver Ni-laterite discovery and are located entirely under soil cover. 
The northern portion of the Project has been partially geochemically sampled by a single line of 7 shallow wide spaced RAB  holes for a total of 34m, completed along an available roadside access. Drilling was conducted to a maximum depth of only 11m, with 10 samples collected in total. Maximum Ni-values from this surficial drilling returned a peak of only 90ppb. Emu considers the geophysical anomaly and conceptual target to remain untested. 
 Initial work planned by EMU will focus on the Ni-Cu-PGE potential of the magnetic anomaly by geochemistry. A follow-up program of moving-loop EM (MLEM) geophysics over the main geochemical anomalies will target potential conductors prior to testing by RC and diamond drilling.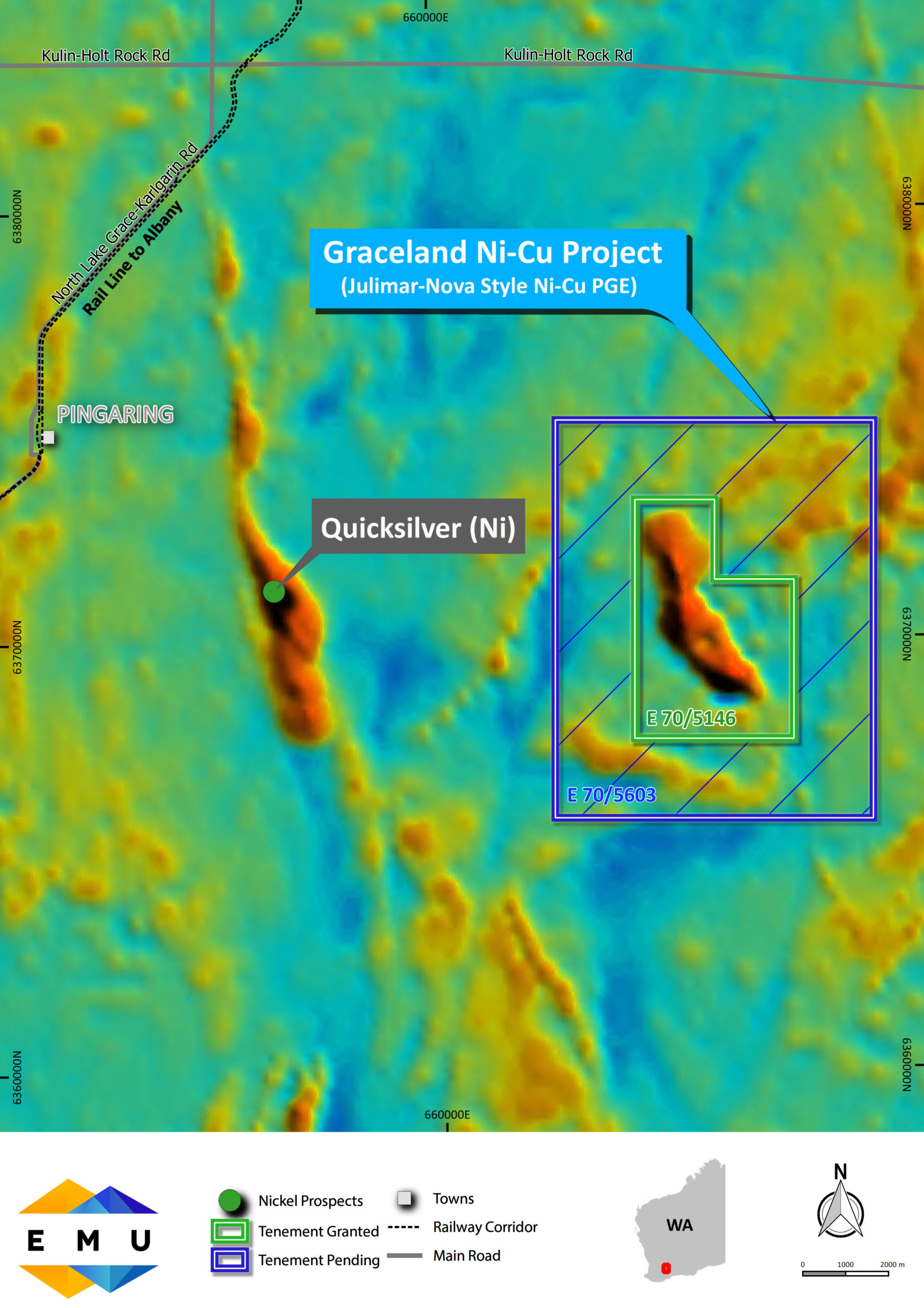 Market updates right to your inbox!